My Austin Local Elections Voter Guide
How I'd vote in every Austin City Council District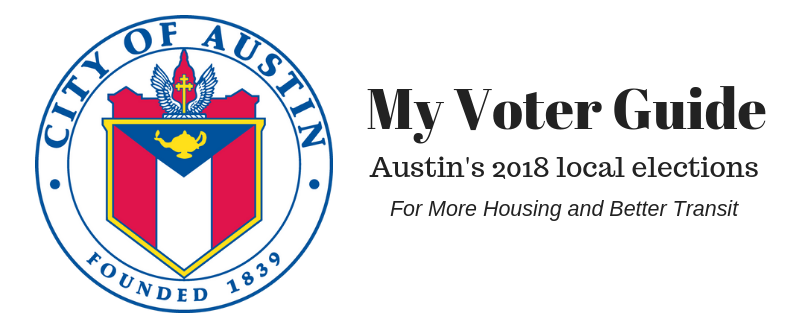 Find your city council district here. Sample ballot here. Print the guide here
Results
Mayor - Steve Adler City Council District 9 - Danielle Skidmore City Council District 8 - Rich DePalma City Council District 5 - Ann Kitchen City Council District 3 - Sabino "Pio" Renteria City Council District 1 - Natasha Harper-Madison Propositions A - G - Vote YES Proposition H - Vote YES Proposition I - Vote YES Proposition J - Vote NO Proposition K - Vote NO
General Theory and Values
Austin is a vibrant, growing city. That is a good thing and we want to keep it that way. But, just like an adolescent, we're experiencing some growing pains right now and that makes it tempting to look backwards to our supposedly halcyon youth. However, also just like an adolescent, our best days are ahead of us, not behind us. That means we need to elect candidates who want to move Austin forward and support ballot propositions that invest in our future.
Finally, our city prides itself on being a diverse and open place. We need to support that vision at the ballot box and make sure we're creating an Austin for Everyone. I believe my recommendations below do the best possible job of that. I've included the campaign site that agrees with my view and their main opposition if you'd like to learn more.
Mayor - Steve Adler
While he has been cautious in his first term, he genuinely wants to keep Austin growing and vibrant. He knows that to do so we need increase and diversify our housing supply, give people transportation options other than cars, and make the most of our $250M affordable housing by allowing more Affordable housing in central Austin. Really though, this race is a totally a question of values for me. When I asked Mayor Adler who should be allowed to live in Austin he responded with real conviction: "anyone who wants to live in Austin should be able to live in Austin." I don't believe his major opponent can genuinely say the same thing.
Agrees with Me - adlerforaustin.com
Doesn't Agree with Me - lauraformayor.com
District 9 - Danielle Skidmore
Danielle would be the first TRANSportation engineer on city council and her expertise in this field is sorely needed (as anyone who sat in I35 traffic can attest). She has also courageously (yes, this is the right word) made land-use reform a major plank of her candidacy. Furthermore, her campaign slogan is "Danielle for All" while her opponent has staked her reelection on "protecting Austin neighborhoods". If we truly want a welcoming, vibrant, forward-looking city then Danielle is the right choice for District 9. Note, I live in D9 and am beyond excited to cast my vote for Danielle.
Agrees with Me - danielleforall.com
Doesn't Agree with Me - kathieforaustin.com
District 8 - Rich DePalma
Rich has a ton of city experience. He is the current vice chair of the Parks and Recreation Commission, a City of Austin Downtown Commissioner, and a formerly served on the Austin ISD Facilities and Bond Planning Advisory Committee. He's the kind of responsible, forward-thinking, and pragmatic person we need on city council. As a leader in the environmental community in Austin, he knows that the only way to address our climate change is to get people out of their cars in alternative forms of transit. As a friend said, "we need to stop running our city like a big neighborhood association". Rich is the only person in this race capable of doing that and he enthusiastically has my support.
Agrees with Me - richdepalma.com
Doesn't Agree with Me - bobbyforaustin.com, paigeforaustin.org, wardforaustin.com
District 5 - Ann Kitchen
Ann is unopposed, but you should vote for her anyway if you live in D5. Her decades of experience in public service are sorely needed.
Agrees with Me - Ann Kitchen at City of Austin
Doesn't Agree with Me - NA
District 3 - Sabino "Pio" Renteria
Pio has selflessly served district 3 for the past four years on the dais. He has supported land-use reform because he knows that, if we want to make Austin more affordable, we need to build new and different types of housing. He's fought for Austin's $15 minimum wage, a $720M mobility bond, and paid sick leave. If we're going to accomplish anything in the next four years, we need to Keep Pio in District 3.
Agrees with Me - d3forpio.com
Doesn't Agree with Me - votesusana.com
District 1 - Natasha Harper-Madison
If you've met Natasha, you're almost certainly already voting for her. But if not, she has my favorite quote from our candidate questionnaire "Multifamily apartment building should be built anywhere people need them! Yes, there should be more multifamily apartment buildings in central Austin, definitely." It's that kind of straightforward, common sense approach to land-use policy that we need more of in city council.
Agrees with Me - natashafordistrict1.com
Doesn't Agree with Me - vinceharding.com
Propositions A - G - Vote YES
These are all bond propositions and are simply necessary investments in our city's future. In particular, Prop A, the $250M affordable housing bond, deserves your vote. Part of being a responsible, growing city means helping out those who don't benefit as much from the growth and that's what Prop A does. If you'd like to learn more about the bonds, I interview Ted Siff, the chair of the Austin Together PAC on my podcast.
Agrees with Me - austintogether.com
Doesn't Agree with Me - NA
Proposition H - Vote Yes
There's some debate about this proposition but I believe it is likely a good thing. It will make planning commission more sensitive to political changes, which we need right now.
Agrees with Me - NA
Doesn't Agree with Me - NA
Proposition I - Vote Yes
Fixes typos in the charter. Please use spell check when voting yes.
Agrees with Me - NA
Doesn't Agree with Me - NA
Proposition J - Vote No
Prop J would put all future land-use overhauls to a referendum and delay these changes for up to 3 years. We desperately need change NOW and cannot wait. Furthermore, referendums like the ones this prop would require are low-turnout and dominated by special interest groups, thus destroying our council's district-based representation.
Agrees with Me - Don't Trump Austin
Doesn't Agree with Me - letusvoteaustin.org
Proposition K - Vote No
Nobody said it better than Eric Goff "Audits are great. We have a lot of them already. K will needlessly add another layer of bureaucracy to our audit system in Austin. Its funders have refused to disclose their identities. You should meet your independent auditors at the city - they're very good at their jobs and consistently find room for improvement. We don't need to have another audit requirement on top of the two we already have."
Agrees with Me - traviscountydemocrats.org
Doesn't Agree with Me - voteyesonpropk.com
Other Resources
The Austin Tech Alliance's informed.vote
Austin Monitor's Candidate Interviews
The Austin Neighborhood Council's Candidate Endorsements (a source I disagree with on literally everything)
Message me if you have any questions about the above recommendations. I have plenty more resources available if you want to read more about either side of these races or issues.
written by Kevin McLaughlin